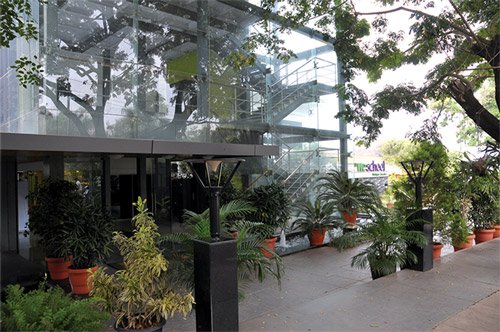 S.P. Mandali's Prin L.N. Welingkar Institute of Management Development and Research, WeSchool, was established in 1977 under the reputed S. P. Mandali Trust. The S.P.Mandali Trust is known for successfully running 43 Educational Institutions. WeSchool has two campuses in India which are located at Bengaluru and Mumbai. The WeSchool Campus at Electronic City, Bangalore is a hot bed of new thoughts, ideas and enterprises. A place where cutting-edge global conversations begin. State-of-the-art facilities like complete Wi-Fi, Innovation and Leadership Labs form an indispensable part of teaching methodology, along with numerous other new-age learning tools. Apart from the reputed PGDM, part time & full time MBA programs, WeSchool, Bangalore conducts Programs on Leadership Development, Design Thinking & Innovation, Negotiation, Executive Leadership Program, Executive Education Management Programs, AI, Business Analytics, HR Analytics and even Customized Programs for Corporates at the Electronic City Campus in Bangalore, India. The programs are offered in Full-time, Part-time, Distance Learning & Diploma formats.
In addition to a wide array of Management Development Programs (MDPs), we offer short, hi-impact programs, having developed a thorough understanding on functional verticals, long term Education Management programs aimed at Junior/ Middle level executives and Long-term customized programs for specific industry verticals. Our Leadership & Management Development Programs are popular among MNCs and they encourage their employees to enroll in our executive and corporate training programs in Bangalore for senior, mid level and top level executives. We aim to create great leaders who display charismatic leadership through our Programs. The pioneering courses we offer draw upon research and our links to the global industry. With a breadth of research activity, we work across disciplines and beyond the University, connecting the brightest minds to find innovative solutions to the world's greatest challenges. The programs at the Welinkgar Institute, Bangalore opens the doors to a world of opportunity, allowing participants to learn and grow, in line with our 'Back to School' motto.
Prof. Dr. Uday Salunkhe
Group Director, WeSchool I Eisenhower Fellow
Chairman, CII- Western Region
"Market volatility, rapid innovation, and geopolitical strife are fueling a demand for business professionals who can think globally and compete strategically. The latest case in public being, the demonetization by the Government. The competitive realities of global competition and technological change have dramatically raised the bar on what it takes to create and maintain a competitive advantage. Navigating today's complex business world requires vision, confidence and strategies that give tangible business results. At WeSchool, our efforts have been towards nurturing our students not just as managers but as global citizen leaders; who look beyond themselves and contribute toward the organization & society as well. To this end, WeSchool has introduced the Global Citizen Leadership Program (GCL) in collaboration with Centre for Creative Leadership, USA. This has featured in the Stanford Social Innovation Review in February 2014 in the article titled "Educating a New Generation of Entrepreneurial Leaders". Leadership, Innovation & Design Thinking are part of WeSchool's philosophical framework. Advisory Boards help us continually improve our curriculum and spawn new programs, meeting specific needs of emerging markets and businesses. WeSchool 's Innovation Board comprises of stalwarts like Dr. R.A. Mashelkar (Chairman, National Innovation Foundation), Mr. Harsh Mariwala (Chairman & Managing Director, Marico), Mr. Kishore Biyani (Group CEO, Future Group), Mr. Rana Kapoor (Founder, Managing Director & CEO, Yes Bank), Mr. Dan Buchner (VP, Peter Lougheed Leadership Institute, The Banff Centre, Canada), Mr Srini Srinivasan (CEO of LUMIUM and member of prestigious Executive Board of ICSID), and Prof. Dr. Ramesh Raskar (Associate Professor, MIT Media Lab), to name a few.
Along with its partners, WeSchool has undertaken several path breaking initiatives like Med4Dev India-Israel, Affordable Healthcare Hackathon with Pears Program for Global Innovation, MIT Media Lab – WeSchool Design Innovation Workshop, InterDesign Workshop with International Council of Societies of Industrial Design (ICSID), India Sweden Innovation Workshop, InterDesign Workshop with International Council of Societies of Industrial Design (ICSID), India Sweden Innovation Accelerator (ISIA) – a platform for Swedish companies to work with Academia to develop business strategies relevant to Indian markets, ReDx 2015 – MIT Media Lab's Health Technology Camp took potential High Impact ideas/ solutions sourced from health researchers & doctors to address critical healthcare issues in India & Kumbhathon in Nashik with MIT and TCS, which combines the identification of challenges, discussions with stakeholders, prototyping and customer analysis for multiple corporate and entrepreneurial ventures. As part of WeSchool's core value of 'We Link and Care' and keeping in mind our responsibility towards our nation, and to give back to the local ecosystem; WeSchool along with partner institutes of Ruia & Podar College have adopted the 'Matunga' railway station. It's my pleasure to welcome you to WeSchool's Executive Education Program. In the past few years, Executive Education has been given high priority in WeSchool. In a business landscape that is chaotic, fluid, and ever changing we need leaders who can lead from the front and steer their companies through turbulent and choppy waters. At WeSchool we understand, the VUCA paradigm, and the need for the Executives to explore new perspectives. Our Leadership & Management Development Program develops, nurtures and empowers the Executives to be ahead of the Change. So here's an opportunity to challenge your current perceptions, identify early signals of change in your business, industry, and geography and connect the dots."
Prof. Dr. Anil Subbarao Paila
Senior Dean Director
WeSchool, Bengaluru Campus
I am delighted to announce that WeSchool, Bengaluru under the able leadership of our Group Director Prof. Dr. Uday Salunkhe, had a humble start nine years ago and established its presence in the Silicon Valley of India. Being located in the Garden City, each corner of our sprawling campus captures and emphasizes the green colour of our brand identity, to provide an idle serene environment conducive for learning and absorbing new knowledge. WeSchool, Bengaluru received the AICTE –CII 2016 Award for the "Best Industry Linked Emerging Management Institute", and also got accredited with South Asian Quality System(SAQS). Last year's introduction of Global Citizen Leader (GCL) Program has enhanced student's ability to immerse into corporate and social projects, developing students to become more aware of self, work in teams and also be socially-aware. As an Institute of Excellence, WeSchool, Bengaluru aims to provide high-quality management education as well as action centric and value adding research. Our customized Management Development Programmes for few top corporates like Infosys, Robert Bosch, Dell, HP, Biocon, EY, Titan, SPAR, Continental Auto, Altimetrik and GE India are exclusively industry focused so as to equip the executives with latest management techniques in the ever dynamic context of business environment.
Faculty members are actively involved in their pursuit of creating and disseminating knowledge through teaching, research, training and consulting. Further, our dynamic interactions with India Inc. has given us the impetus and encouragement to develop live case studies which have been published by Richard Ivey, Michigan University and Emerald Publications while many more are in the pipeline. We hope to engage you actively in this journey. For as we take the flight to an exciting future, we have strong belief in one thing – we can achieve almost anything we set out to do, with focused vision, mission and team work. Welcome to the "WOW -World of Welingkar". Today's highly competitive business environment puts a great deal of emphasis on upgradation and learning. Hence, it is imperative, that individuals continuously explore new perspectives. WeSchool's campus, at the Electronic City in Bengaluru, provides the right ambience for the managers and entrepreneurs to introspect and reflect amidst an academic environment. The Corporate Leadership Training Program is an innovative and dynamic program designed for professionals with the ambition to grow into Senior Management and Leadership positions. The program combines the latest management thinking with practice and applied research, with an emphasis on leading and managing in multicultural settings".